Water Heater 

Repair & Installation


Water heaters are one of the most relied upon pieces in your entire plumbing system. Whether you have a natural gas water heater, propane or electric, you expect it to work efficiently and deliver hot water effectively. Similar to a car, the life of a water heater relies heavily on how well and how often it is maintained. Unfortunately, water heater maintenance is not always our top priority on our list of things to do, if it even makes the list at all. Due to the demand and constant workload, various issues can arise throughout the life of a water heater.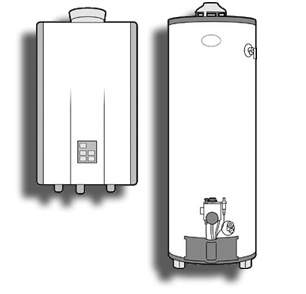 Never run out of Hot Water!
If your storage tank water heater is nearing the end of its useful life and you're interested in saving space and energy, tankless water heaters are worth a look.
How they work: Traditional storage tank water heaters store between 40-75 gallons of water (depending on the size and age of the unit) and constantly heat the stored water to a set temperature – even when you're not using it. Tankless water heaters, as their name suggests, do not store water. Instead, your water passes through the unit and is rapidly heated to temperature through the use of a heat exchanger. Through this process, you are heating the water only when you are using it.
Energy Savings: Tankless water heaters use approximately 20-30% less energy than traditional storage tank water heaters, while also providing UNLIMITED HOT WATER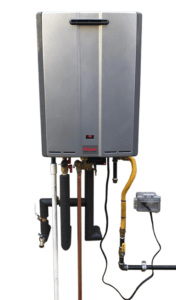 There are many factors that come into play when installing or replacing a water heater: Such as the height, width, fuel type, capacity size, efficiency rating, exhaust, location... All the way to current building codes and requirements. With all of these factors, it's easy to see why hiring a licensed plumbing contractor for your water heater installation is your best route.
D. Martel Plumbing specializes in a variety of water heater services - including water heater replacement & installation, leak repair, recirculating pumps, on-demand/tankless water heater systems and more.
Our technicians work COMMISSION-FREE to provide honest evaluations & recommendations, without pushing expensive and unnecessary extras. We carry a selection of water heaters in stock, allowing us to provide same day water heater installation and replacements. As a licensed plumbing contractor, all of our work meets local building code requirements.